Death for the Pope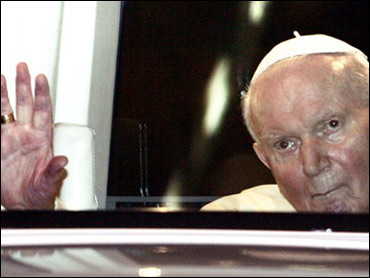 AP Photo via CBSNews.com
William F. Buckley -- DEATH FOR THE POPE
:
"At church on Sunday the congregation was asked to pray for the recovery of the pope. I have abstained from doing so. I hope that he will not recover. "
Read the rest of the article
William F. Buckley began this article in a provocative manner, but he is raising some valid issues here. It may seem shocking to think of such things but to take for granted that one must pray for the Pope to continue his frail life is needlessly dogmatic. There is nothing wrong with thinking about this stuff.
Buckley's article raises the question:
why should we pray for the Pope's recovery
?
I do not think that most of those that pray for the Pope ever ask themselves or eachother that question; and asking that question is not a denial of Pope John Paul's goodness or the good works he has done.
The Pope may not be completely mentally incapacitated yet, but he is
not able to function
physically in an adequate way to carry out his office. The Pope
will
die. There
will
be another Pope. Pope John Paul's death will certainly mark the end of an era for the Catholic Church, but his death will not be the end of the church or the end of the world. I question the wisdom of the Pope's categorical refusal to ever retire. such a pronouncement leaves no room for what is best for his church; and if his retirement is what is best for his church then he should retire. Is it then unreasonable to pray for a good man's peaceful, dignified passing?